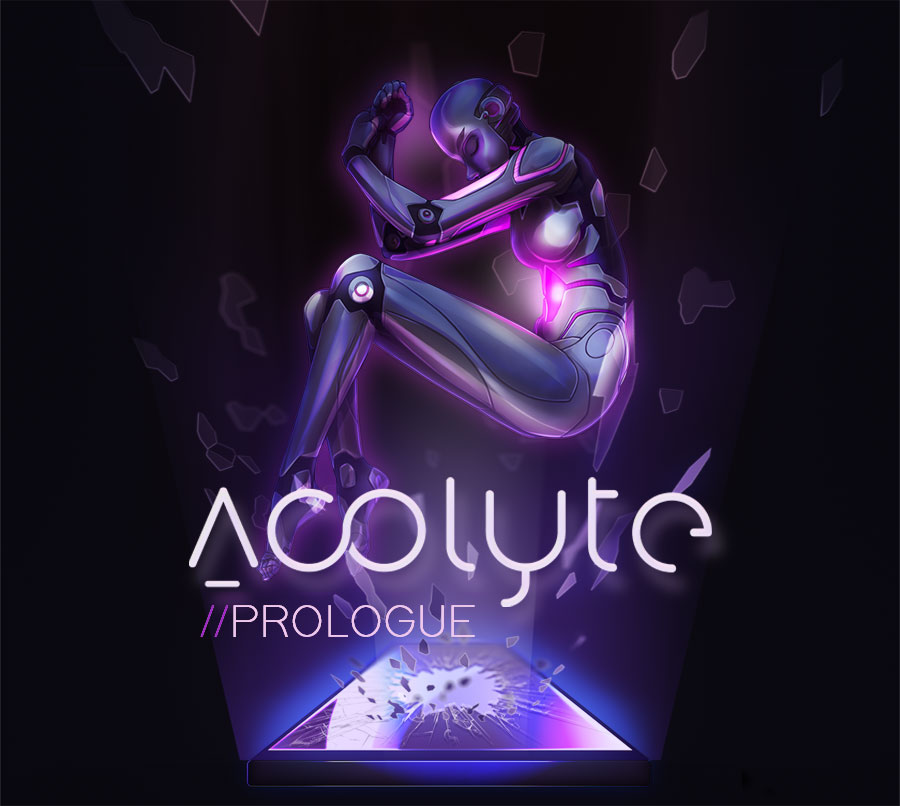 Acolyte: Prologue
Update #7 | 10 Features Of Your Digital Assistant
---
Acolyte is a natural language game. This means there are no pre-defined dialogue options or binary decisions to make.
You can, within reason, talk freely to your Acolyte - your own digital assistant - to advance the plot in any way you see fit.

Or you could choose to NOT advance the plot at all, and simply soak in the conversation. It's totally up to you.

Through conversation and verbal command, your Acolyte has access to a broad range of different modules to cover a spectrum of different uses. Some are functional, and some are simply entertaining.

Here's Ten Ways You Can Interact With Your Acolyte:




//ONE - RENAME YOUR ACOLYTE
The AI Nanomax Assistant is, by default, called Ana. But you are free to name her whatever you wish. Simply ask "I want to change your name" or "I want to rename you" (or a variant of this!) and your Acolyte will let you choose a new name.

//TWO - RENAME YOURSELF!
On the flip side, you can also have your Acolyte call YOU anything you wish. Your name being the obvious choice here.

//THREE - TAKE THE PERSONALITY TEST
Your Acolyte can personalise the application to your tastes, but in order to do so, will need to understand what makes you tick. Ask your Acolyte to "Run the Personality Test" and she'll run through a series of questions to get to know you a bit better.


//FOUR- GET TO KNOW YOUR ACOLYTE!
After your Acolyte has got to know you, it's only fair that you should know her, too. Ask her questions. Find out what an artificial intelligence might think about current affairs or ethics in robotics. Or her favourite colour.

//FIVE - HAVE YOUR ACOLYTE READ YOU AN AI-GENERATED POEM
Is AI capable of creating (or appreciating) art? Find out for yourself by asking your Acolyte to "Read me a poem". Acolytes are programmed to compose and deliver haikus, but their potential for beautiful, flowing prose is endless.

//SIX - HAVE YOUR ACOLYTE TELL YOU A JOKE
Your Acolyte has a joke module pre-installed with hundreds of jokes. Just say "Tell me a joke" and your Acolyte will furnish you with a funny.


//SEVEN - HAVE YOUR ACOLYTE SEARCH THE INTERNET
Need specific information to solve a puzzle? Perhaps you need a particular decryption tool to decipher hidden text? Or maybe you just want to look at pictures of dogs in hats. Whatever your search query - ask your Acolyte, and they'll do the rest.

//EIGHT - REQUEST CHANGES TO YOUR SETTINGS
Want to increase or decrease your font size? Turn the music up? Switch to a Light Mode display? Your Acolyte can facilitate all of these requests: you just need to ask.

//NINE - PLAY A GAME!
It's not Solitaire or Snake, but your Acolyte comes pre-installed with a conversational guessing game - just ask "Do you know any games?" or "Can we play a game?". Can you work out the rule to this language game?

//TEN - LEAN ON YOUR ACOLYTE FOR HELP
Your Acolyte has a wealth of information about Nanomax and its employees - if you have a question about the company or anybody within it, just ask. Any knowledge stored on a Nanomax server is also knowledge available to your Acolyte. Your assistant is only limited by your own questions...

--

Acolyte is due for release May 26th 2022. Wishlist now!